One thing that we are increasingly focused on is telling our brands' stories, and how we can connect our clients with the brands they want to own. It's things like sustainability, low carbon impact, adventure-ready, and long lasting products that are super important in our industry, and resonate with our clients.
We hope you enjoy the uniquely curated selection of products offered at Treads 'n' Threads!
Locally Sourced Merchandise: A new product line that we are excited to partner with starting this May is locally owned Gunnibags. These ever popular handmade bags are made from at least 75% recycled textiles and retired climbing rope. No two bags are ever exactly alike. And 10% of the profits are donated to a local animal rescue program.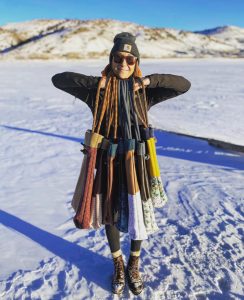 We have also expanded on our Gunni Love products with new tshirts, sweatshirts, hoodies, and stickers. A portion of the sales of these items goes to Gunnison Trails. We have donated over $2000 dollars to them to date.