One thing that we are increasingly focused on is telling our brands' stories, and how we can connect our clients with the brands they want to own. It's things like sustainability, low carbon impact, adventure-ready, and long lasting products that are super important in our industry, and resonate with our clients.
We hope you enjoy the uniquely curated selection of products offered at Treads 'n' Threads!
Locally Sourced Merchandise: A new product line that we are excited to partner with starting this May is locally owned Gunnibags. These ever popular handmade bags are made from at least 75% recycled textiles and retired climbing rope. No two bags are ever exactly alike. And 10% of the profits are donated to a local animal rescue program.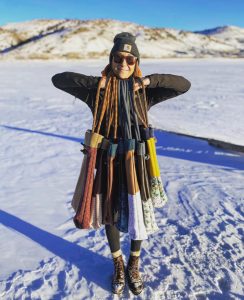 We have also expanded on our Gunni Love products with new t-shirts, sweatshirts, hoodies, hats and stickers. A portion of the sales of these items goes to Gunnison Trails. We have donated over $2000 dollars to them to date.
Cotopaxi- This B-Corp uses fabric scraps to make all of their products.
Life is Good- Life is Good donates a minimum of 10% of their annual net profits to the Life is Good Kids Foundation, which works with childcare professionals- like teachers, nurses and social workers- to create life changing relationships in optimism-fueled environments where the most vulnerable kids can heal, learn and grow.
Sherpa- Sherpa is focused on providing economic and social stability to the people of Nepal through steady employment, quality working conditions and educational opportunities for future generations. In addition, every item you buy provides a day of school to a child in Nepal.
10Tree- Just as their name suggests, 10Tree plants ten trees for every item bought. 10Tree also uses sustainable materials and guarantees a safe working environment for ethical manufacturing.